How to Choose a Coffee Maker? 3 Great Tips to Find the Best One for You (I)
Coffee is a necessity for office workers, buying coffee daily can not only be a high expense, but after drinking coffee for a long time, one will start to be particular about the taste as well. This time you will need a coffee maker to satisfy your needs! There is a suitable coffee machine that can make your favorite flavor of coffee every day, but how will you be able to choose the right one from countless coffee machines? We will talk about 5 different types of coffee machines below.

5 Types of Coffee Makers

The most popular types of coffee makers are Drip, Espresso, Single-Serve Capsule, Cold Brew, and Pour-Over. The information below will let you further understand the differences between these 5 types of coffee makers, and the pros and cons of each type.

Drip Coffee Maker
There are different types of coffee maker with grinding or non-grinding functions and filter paper or metal filter type.

Pros:
Easy to use, one brew can serve many people, suitable for offices and colleagues.
Cons:
The taste is a little bland, and the cost can be high due to non-reusable filter papers.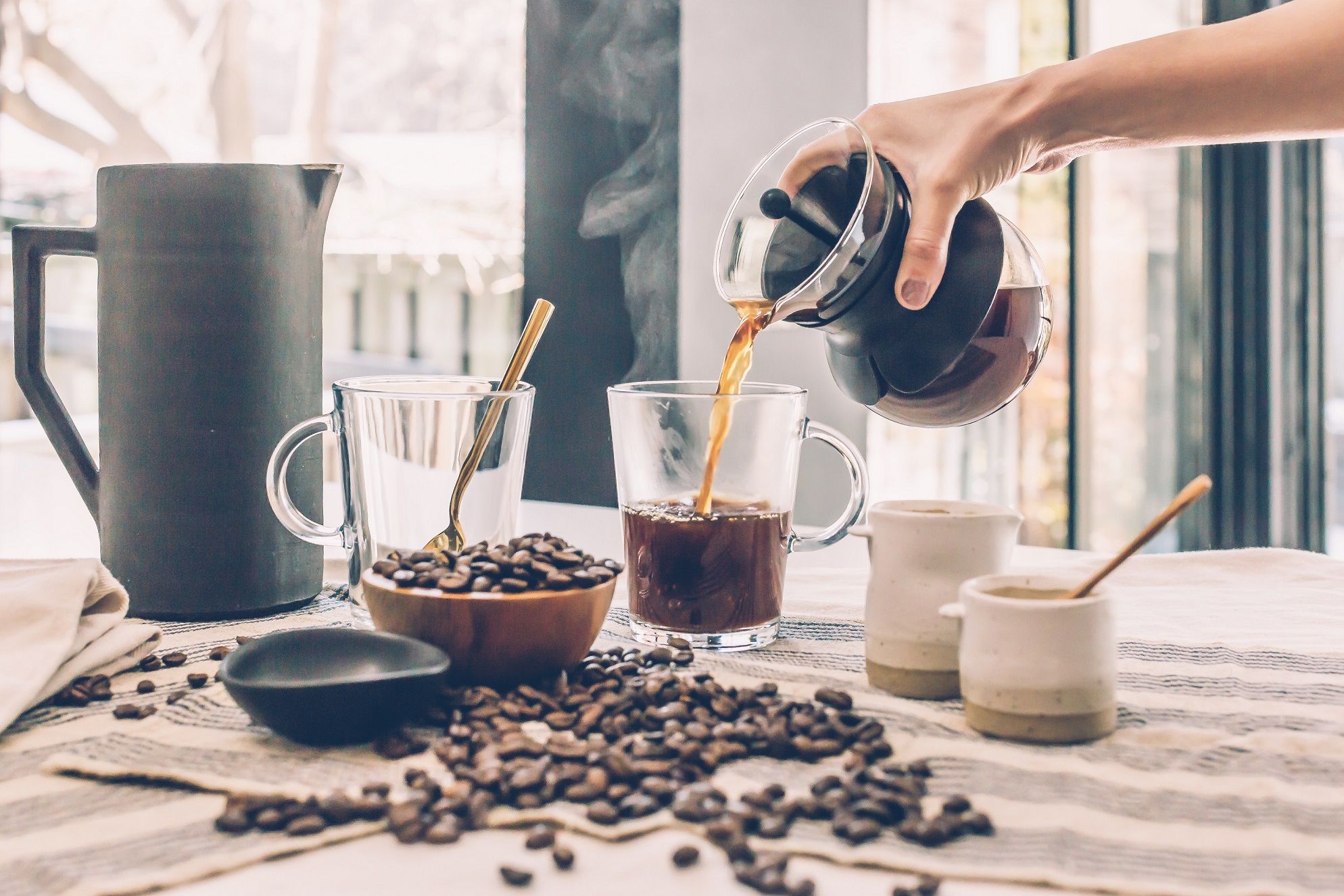 Espresso Coffee Maker
There are two types of espresso coffee makers, automatic and semi-automatic machine. These coffee machines work by heating water and running water through pressed coffee grounds. Compared to a drip coffee machine, an espresso machine provides a richer tasting coffee. The surface of the freshly brewed coffee has a golden tint coffee grease, known as crema. The color and amount of crema is often used as a criterion for judging a cup of espresso.

Pros:
Comes with a steam nozzle which can be used to make milk foam, and can therefore make different types of coffee such as macchiato and cappuccino
Cons:
Espresso coffee makers often come larger in size which takes up more space. In addition, it takes some skills to work a semi-automatic espresso machine, which is more suitable for a professional barista. Using this at home can result in insufficient steam performance and poor flavor of the coffee.

Single-Serve Capsule Coffee Maker
To keep ground coffee fresh, capsule coffee stores ground coffee in small aluminum pods capped with foil containing. The machine operates similarly to drip coffee, but capsule coffee makers use pre-ground coffee and measured pods. By putting in a single capsule, and the click of a button, the machine delivers a fresh cup of coffee.

Pros:
Capsules are usually a plastic container which holds the coffee grounds and filter within, it is foolproof, won't need to worry about damp environments or grinding the beans. All one needs to do is press the button and enjoy the deliciousness of the coffee! Convenient and fast. In addition, capsule coffee has a variety of flavors, suitable for someone who likes changes.
Cons:
Capsules can get expensive and different brands of capsules may have specific brands of coffee makers, therefore, make sure the flavors are your preference before purchasing the coffee maker.

Cold Brew Coffee Maker
Cold Brew coffee differs from the other types of coffee makers, because it is brewed without any heat. The machine uses cold water and needs a long period of brew time. It normally isn't consumed right after brewing, but is instead left in the refrigerator for further dispense. The taste will be less bitter and sour.

Pros:
For those who like a fuller, deeper, more flavorful cup of coffee instead of bitterness.
Cons:
A good cup of cold brewed coffee is made by steeping coarsely ground coffee beans in cold water overnight, therefore, it's not suitable for morning people who need a quick cup of coffee in the morning to wake up.

Pour-Over Coffee Maker
Since the original pour-over coffee brewing time takes a longer time to prepare and brew, the coffee machine is developed to simulate the way of pour-over brewing.
Pros:
Can save time but experience pour-over coffee's taste, suitable for the people who prefers pour-over coffee but doesn't have enough time.
Cons:
Still has a difference in taste compare to the real pour-over coffee. In addition, there's still preparation of placing the filter and cleaning afterwards. Brewing time takes a little longer than other methods.