Strawberry Cold Brew Coffee
Strawberry Cold Brew Coffee
Introduction
Strawberries grown in winter are more delectable than those grown between spring and summer—for reasons that go beyond the excitement of the beginning of strawberry season. The low temperature locks the strawberries' freshness, keeping them rosy, glossy, plump, and delicate.
Your mouth becomes filled with juice that pops out of the pulp with every bite, delivering sweetness and glee.
With the gently acidic taste lingering on the tip of your tongue, you can't wait to have another bite: one after another, until the first sign of spring.
With this strawberry syrup, you won't have to worry about missing the taste of fresh strawberries.
We, at Bogari, are thrilled to announce that this popular flavor has been added to our upgraded Bogari Fruit Series.
In this upgrade, we overhauled all ingredients, adding natural strawberry concentrate extracted from *American No. 13 Strawberries to the mix.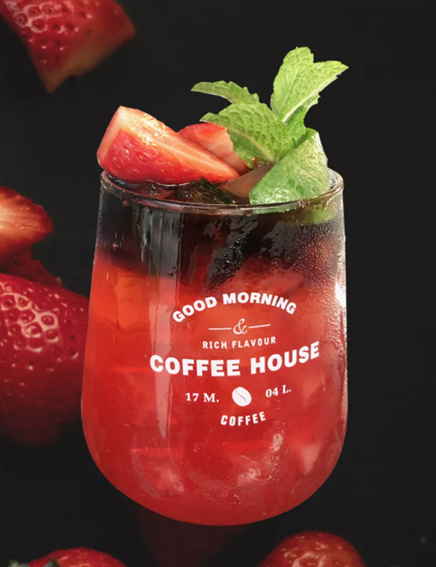 *American No. 13 Strawberry:
Introduced to American in 1986, this variety of strawberry has various characteristics, such as fleshy fruits, high quality, and rich aroma.
You're gonna love the sour and sweet taste.
Capacity: 750ml
Shelf life: 24 months
Color: Ruby
Aroma: Rich strawberry
Flavor/Taste: Sourness and sweetness from pure strawberries
Volume: 750 ml
Product advantages: with natural American No. 13 Strawberry concentrate added, the syrup has a more attractive flavor as well as color.
Application: fruit tea, cocktail, coffee, milk, yogurt, smoothie, sparkling water, ice, cream, dessert sauce, etc.
Ingredients and Steps


Ingredients
| | | |
| --- | --- | --- |
| [ Item A ] | Bogari- Strawberry Syrup | 30 g |
| [ Item B ] | Cold brew coffee | 30 g |
| [ Item C ] | Sparkling water | 170 g |
| [ Item D ] | Ice cubes | 160 g |
| [ Item E ] | Fruit slices and peppermint | for garnishes |
Steps
| | |
| --- | --- |
| [ Step 1 ] | 1. Put all ingredients into a cocktail shaker and shake for about 8-10 seconds. |
| [ Step 2 ] | 2. Pour the content into a glass and garnish the glass with strawberry slices and peppermint. |